Wim van Velzen photography - landscape
---
Iona - saints and scenery
July 2012
| | | | |
| --- | --- | --- | --- |
| | | | |
| Iona 8 | Iona 9 | Iona 10 | Iona 11 |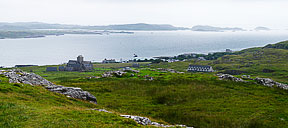 Iona 15
_______________________________________
Iona is well known for the history of its abbey, founded by Saint Columba in the 6th century, a very important event in the conversion of Scotland to Christianity.
The present day abbey buildings are the rebuilt 13th century abbey.
A little bit to the North is Dun I, about 300 feet high, with lovely views over Iona, Mull and the Treshnish Isles.
The day we were there was a largely grey day. Only when on top of Dun I there was some breaking of clouds.
_______________________________________