Wim van Velzen photography - landscape & nature
---
Rannoch Moor
| | | |
| --- | --- | --- |
| | | |
| Buachaille Etive Mor 1large | Buachaille Etive Mor 2 | Altnafeadh |
| | | | |
| --- | --- | --- | --- |
| | | | |
| Rannoch Moor 1 | Rannoch Moor 2 | Rannoch Moor 3 | Rannoch Moor 4 |
| | | |
| --- | --- | --- |
| | | |
| Buachaille Etive Mor 2 | Rannoch Moor 5 | Rannoch Moor 6 |
| | | | |
| --- | --- | --- | --- |
| | | | |
| Rannoch Moor 7 | Rannoch Moor 8 | Rannoch Moor 9 | Rannoch Moor 10 |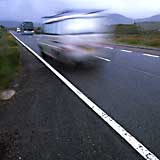 Rannoch Moor 11
---
From the A82, the road to Fort William and thus one of the main traffic veins through Scotland, one can have a spectacular view on Rannoch Moor, a plateau of about 300 metres. All around the moor is surrounded by mountains up to 1000 metres. These seem to be much higher, as their slopes are almost without any trees or shrubs and their tops are bare - if visible at all. Often they are swallowed up by the clouds.
As soon as you leave the car and enter the Moor (be careful - it is a moor after all!), it feels like one is visiting earth a few days after creation. So much space and peace. Every element is just being itself.
In prehistoric times the moor was almost totally forested, with decidious wood and caledonian pine. As soon as the peat in the moor is cut, the ancient roots and branches of post-glacial trees testify of that forested period.
Although those days are long gone, small islands are still full of trees, as deer don't come there to feed themselves on the young seedlings and the bark of mature trees.
A modern effort to reforest the area is in the south-east, where Sitka spruce plantations cover the area like an army of silent soldiers. Although economically important, they are a very ugly feature of the landscape. Hopefully the people in charge will keep the western area, like around Buachaile Etive Mor, free from that kind of land use.
Further deer culling though, to restore a balance between grazing and floral life could be of an immense benefit to the area, as original species could recover and form native woodland again.