| | |
| --- | --- |
| | |
| Glen Etive 1 | Glen Etive 2 |
| | | | |
| --- | --- | --- | --- |
| | | | |
| Glen Etive 3 | Glen Etive 4 | Glen Etive 5 | Glen Etive 6 |
| | | |
| --- | --- | --- |
| | | |
| Glen Etive 7 | Glen Etive 8 | Glen Etive 9 large |
| | | |
| --- | --- | --- |
| | | |
| Glen Etive 10 | Glen Etive 11 | Glen Etive 12 |
| | | | |
| --- | --- | --- | --- |
| | | | |
| Glen Etive 13 | Glen Etive 14 | Glen Etive 15 | Glen Etive 16 |
| | | | |
| --- | --- | --- | --- |
| | | | |
| Loch Etive 1 | Loch Etive 2 | Loch Etive 3 | Loch Etive 4 |
| | |
| --- | --- |
| | |
| Loch Etive 5 | Loch Etive 6 large |
---
Glen Etive is one of Scotland's best treasures - and quite a hidden one for that. To get there, just go south from Kingshouse Hotel on Rannoch Moor. The road through Glen Etive leads to nowhere - as long as parking at Kinlochetive is in your eyes nowhere.
In my opinion Glen Etive is the most beautiful glen of Scotland. High mountains, a turbulent river from Rannoch Moor on the way to the sea, deer, eagles high up in the sky.
The way ends near a couple of houses, which often can only be reached by boat in winter. Imagine living there... At least there is public telephone over there.
View over Loch Etive, peace and for miles only mountains and water. The first time my wife doesn't mind camping in the wild outdoors. The early morning I saw Loch Etive from out of our tent -
I can't find words indeed.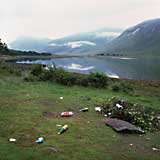 ALAS: Not everyone seems to appreciate Scotland's beauty. Though the campers at this place told me the night before they liked the Glen for its peace and quiet.
I hope they planned to clean the place, but just had to escape the midges...
Glen Etive is a perfect example of a glen shaped by glaciers during the glacial ages more than 10,000 years ago. The glen shows a nice U and V curve, with the river Etive at the bottom, eroding its way down into the rocky soil.
At the end of the glen, at Gualachulain and Kinlochetive, morain rocks are witnesses too of the glaciers. The stream of ice rolled large boulders down the glen and they are still near the shore, rounded as they got in the process.
Loch Etive is open to the Atlantic ocean, although it is still another 20 miles to open sea. The water at the end of the glen is more fresh than salt, though some dead kelp testify of the power of the wind and water streams.
Another natural feature we enjoyed (well, not really) were clouds of midges during an overcast day with no wind. Thousands, millions, too many of them.
A good reason to return later in the year, when the slopes turn brown and ochre because of the decaying breacken - and no biting midges left!