Wim van Velzen photography - articles
---
'You must have a good marriage...'
account of a journey to the Hebrides
part two: Leòdhas
part one: who went and where
part three: Na Hearadh
part four: An t-Eilean Sgitheanach agus Loch Ailse
vast and lonely
Steòrnobagh is surprisingly urban for a place with 6000 inhabitants. A large number of schools, the hospital, the buildings of Telebhisean nan Gaidheal it all helps to suggest a much larger place. And, of course, the fact that we lost our way twice. A nice feature of the town is that most shops are no part of a larger chain; everything is just what it is - no pretences here.
Apart from the busy harbour and the wooded park of Lews Castle, there is not bustle here, but that is no problem to us. [ The fact that the presence of a park can be seen as a sign of bustle is quite telling actually! ]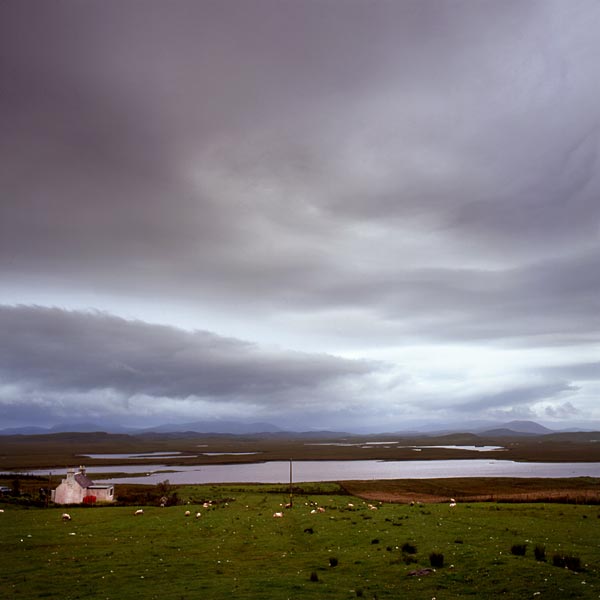 As soon as you pass the first cattle grid you enter the hinterland, where the urban folks look at with a bit of condescension. It is remarkable that most houses are built quite near the sea, often in stretched so called townships, each house on its own piece of land. Houses are mainly practical and with little decoration. Often the remains of the old taigh dubh or black house can be seen. These old houses have not seldom a second life as a shed.
Also remarkable are the shielings, small huts on the moors where in former days the people stayed in the Summer time, while looking after their sheep. They are still in use for days of fishing or when working in the peat.
Almost all of the island's interior consists of moor, lochs and some rocky hills. Since Medieval times there are no forests left. Some houses are shed by a fence of small trees, but there are no other trees. The Forestry Commission tried to plant some production forests, but most have been wrecked by insect pests. Probably a recovery of a forest with original species would be more succesful, but it seems there is no commitment to do so.
All that vast emptiness is not always desolate. Countless hues and forms are to be seen. When the clouds glide just above the land tha air is filled by a touch of melancholy.
The coast is never far away and always capricious. When there is a band of seaweeds just above the water line, then you know it is the sea. When there is not, it is fresh water. Many sea lochs are filled by islands and peninsulas. Land and sea always intermingle.
The most beautiful stretches of the coast are the cliffs, often guarded by lonely outposts in the ocean. Here and there lovely sandy beaches show their fine curves. This is the homeland of countless birds. No human being would think about lying on the beach with a bikini.
just passing by
We stay for five nights at one of the rare campsites on Leòdhas, in Cnip (near Bhaltos). You can put up your tent almost everywhere you'd like on the island, but here there is the luxury of showers and a place to do the dishes (that is four showers and one sink). More than enough for all campers.
The campsite is a few hundred yards of dunes with lots of space. Some caravans are secured by ropes and giant pins to endure the wintry storms: many campers come from town - Steòrnobagh.
The reception is an old Ford Escort driving around four times a day, manned by an elderly couple. The man asks me, in the slow English that a lot of Gaelic speaking people have here, how long we think of staying. I tell him we don't know yet, but at least for three nights. In that case, he says, we just tell him as soon as we know. Than we can pay for all nights together. He didn't want any payment in advance, that is just superfluous paperwork.
Probably it is because of the lethargy these people seem to breath, that I cannot stop wondering how they look at us tourists.
They make us feel welcome, no problem. But do they understand why someone should leave his home to go to their very island for a couple of weeks? Or am I plain wrong and do they think everyone should see their beautiful island? Or don't they care anyway and are they making plans for their annual visit to Ibiza?
Their business is apparently self-evident to them. Retiring is just not something one does here. Everyone does what he can, in his own pace. Probably the healthy option!
The same question, how we tourists are looked at, pops up during our visit to the Clachan Chalanais and Dùn Charlobhaigh (Calanais Stones and Carloway Broch).
For thousands of years these monuments of human will and effort stand upright and have seen many generations passing by. The broch is by the way just a youngsters with two thousands years - the Calanais stones were there for more than three thousands years before the broch was built!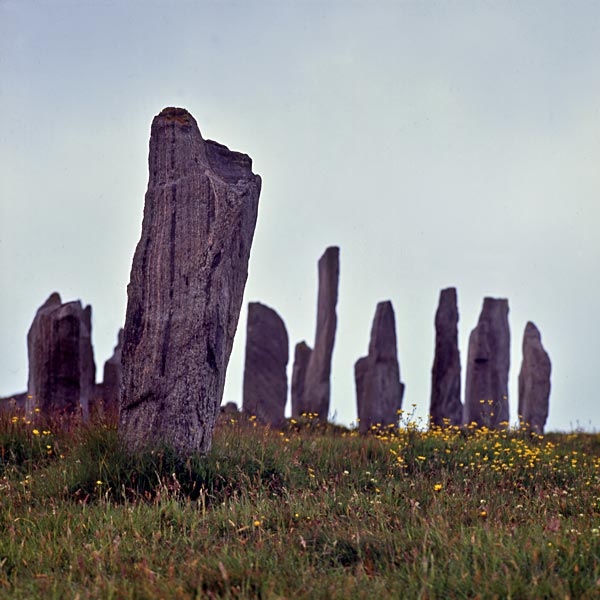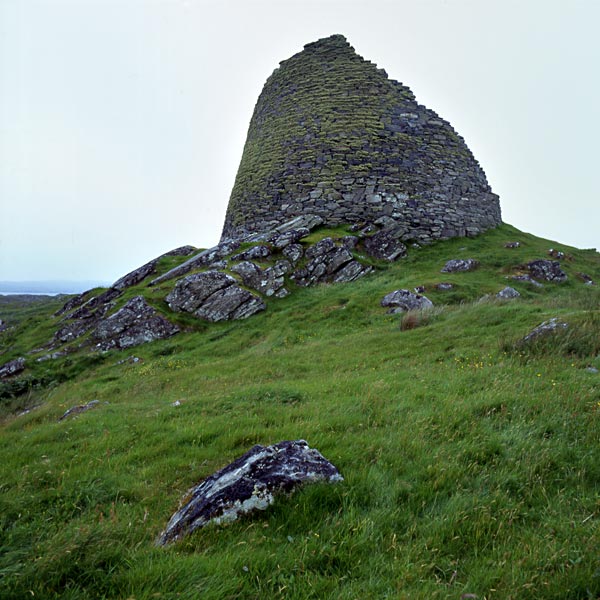 What is their opinion on the idea of tourism. What do they think of all these people gazing at them. Will they tell each other in a couple of years 'remember the years around 2000 AD? All those tourists? I am happy it is quieter again...'
Looking at them, they don't show off their feelings. Probably they like all this attention. After all, they were built to impress, weren't they?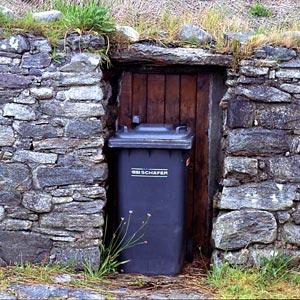 In Calanais next to the stones there is a taigh dubh serving as a tea room. The atmosphere immediately feels familiar. Apart from some retro-features it shows that the place is dragged along with the global tide. The dustbin is exactly of the same type as we have at home. Panini and Caffé latté are being served. The ratio of tourist to native is at least ten to one.
Of course it would be childish of me to suggest that the place is the climax of globalization. It really is a fine time room with good soup and homemade scones! But it often makes me wonder what we lost in recent years.
Thinking about it, tourism seems weird anyway. One goes to a place to feel the atmosphere, that changes and dilutes as soon as the tourist is there. The more touristy places in the Highlands solve this diluting problem by adding some flavour enhancers, like bagpipers and souvenir supermarkets. Not that this tastes really bad, but all these places from North to South tend to have exactly the same flavour, with the same plaids and the same funny cards.
So I feel happy that the Outer Hebrides can do without these E-numbers...
This all is not to say that globalization doesn't have its positive sides! When our car [ admittedly another damned product of our culture ] starts to make heavy noises when changing gear, it is quite reassuring to find a Renault garage on the island, sporting a complete laptop-diagnosis-unit. As it turns out, the potentiometer is broken (and no, I didn't know what that is either), but no need of panic. The thing can easily be missed, just like an appendix, but than a car's one.
I cannot help to be surprised to find this computer gear in this place. Subconsciously I reckoned to find an old fashioned workshop where the electronics were treated with heavy keys and welding gear. Silly me...
a second home?
More than once we have been thinking about getting a second home somewhere in Scotland. Maybe emigrate entirely. Not that we really had a worked-out plan, but whenever ... than ...
Most of the time these plans are binned because we feel that as a tourist you cannot really know what life would be like, all days of the year, living, working, having friends. You cannot live by a beautiful scenery alone, can you?
On Leòdhas living there seemed more unthinkable than anywhere else. As Dutch urban people (that is to say, with a number of 60,000 inhabitants Veenendaal is not a real city but we do have our own supermarket...) we could get used to the local level of facilities. But what influence would the land and the weather have after a few months, after some years? Can one just move to a totally different part of the world?
And however nice the people are here - could we ever be part of the local community? Will these people allow you to be a part of their lives? And as important: would we manage to open our lives for them?
Ergo: we unmask ourselves as hopelessly naive escapists who return to their home after a few weeks of leave.
More of my foolishness. The first time I saw some Hollywood videos in a small Highland supermarket, I was quite astonished. After my succesful escape out the world of brands, television and IT, I never suspected the inhabitants of this beautiful romantic realm to watch the same entertainment crap as we have at home.
I guess I expected that those who live in Scotland feel a large distance between them and the global culture, just as I feel when I am there. Quite unfair from my side of course.
Like I wrote down during our stay in Ulapul:
'How strange that most people here fail to see their land as paradise. Not that they look at it as a prison or so, but just as a place to live. The girls at the supermarket's desk look as bored as they do in the Netherlands.
Which place do they dream of?'
Well, I suppose we won't move to Scotland in the foreseeable future - unless of course a reader knows a great job for me there...
Certainly we cannot imagine to live in a Black House, like most people on Leòdhas used to do until half the twentieth century. A peat fire in such a house with no chimney makes the place very very smoky. I kind of expected to see a warning at the entrance like entering this place leads to impotence, dermatological diseases and other health problems - the kind of texts the tobacco industry advertise themselves with.
Electricity, running water, sewers were still unknown luxuries. The stable is part of the house, outside the peat heaps are waiting the winter to come.
Compare that to some folks we know, who simply cannot understand how we manage to live in our house without a microwave or television!
part one: who went and where
part two: Leòdhas
part three: Na Hearadh
part four: An t-Eilean Sgitheanach agus Loch Ailse

---
This article is written by Wim van Velzen, © 2005.
Comments and questions are always welcome!

Most of the photos in this 4 part article are placed in the following portfolios:
The Great Glen
Lewis: Uig and Bernera
Lewis:the North and East
Harris: the West
Harris: the North and East
Skye (2005)
Lochalsh