Wim van Velzen photography - articles
---
'You must have a good marriage...'
account of a journey to the Hebrides
part four: An t-Eilean Sgitheanach agus Loch Ailse
part one: who went and where
part two: Leòdhas
part three: Na Hearadh

different
People often ask if we don't get tired going time and again to Scotland. The obvious answer is no, and here is why. First, going back to a place one has been before is like meeting an old friend - if, of course, the place is a loveable one! The more we visit, say, Rannoch Moor the more intimate we get with the landscape. And with such a changeable weather and in so many different seasons, we never feel bored visiting again. [ As is proven by the fact that we visited an t-Eilean Sgitheanach in 1996 and 1999 ]
Second, we don't get tired because the Scottish highlands and islands have such a diversity of landscapes. Rannoch Moor is a different place from nearby Glen Etive, which is different from nearby Glen Coe and so on.
These differences may be not too easily visible for the first-time visitor but after some time they are as noticeable as the different tastes of whiskies.
As soon as we drive into an t-Eilean Sgitheanach (Skye), the island strikes us as being remarkably different from Na Hearadh and Leòdhas, even as they share much of their flora, wildlife, history and culture. First of all there are trees here - not that much compared to the mainland, but they make up for an other atmosphere.
The houses on Sgitheanach are more of the cosy-highland-whitewashed-cottage type than the housing on the Eileanan an Iar (Outer Hebrides).
Much of the northern part of Sgitheanach shows its volcanic history, especially Tròndairnis (Trotternish). High cliffs, kilt rock and many weird phenomena. No sandy beaches here, no machair either.
My wife feels more at home here. To her Leòdhas and Na Hearadh are magnificent and with grand scenery, but Sgitheanach is more lovely.
I myself like both places equally, and both more than most of the Scottish mainland.
By the way: whatever the differences, the weather was awkwardly similar, with lots of overcast skies, rain and drab colours. That said, some sunny spells in the Cuithreaing (the Quirang) and the bright sunlight in Ealagol made our days.
a nasty accident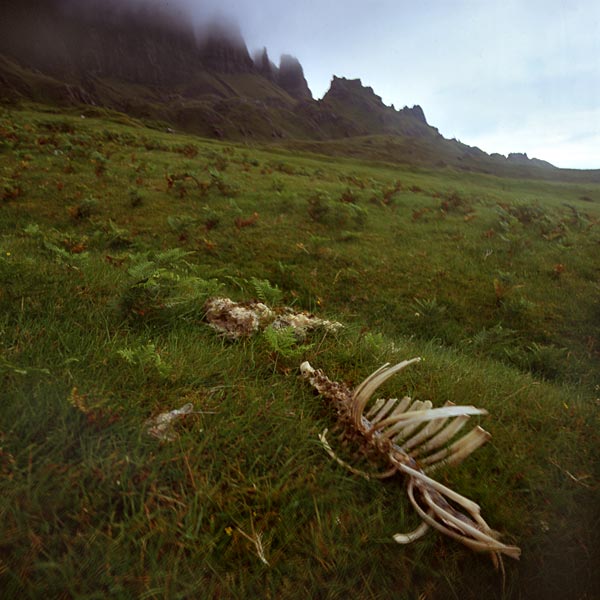 Sometimes we are reminded to the frailty of human existence. On Na Hearadh this was painfully made clear by my own stupidity - I had my 40mm wide angle lens drop out of the bag onto the road surface. This was too much for the mechanics of the lens, even when at first it seemed to work just fine afterwards. After a couple of days the aperture blades came loose.
To the right you can see the last photograph I took with it, before it stopped working altogether. As you can see from the strange unsharpness, the optical elements were out of normal working order as well.
That said, this photo has a beautiful quality all of its own and I kind of like it. Nevertheless I had it repaired, as I supposed this special optical effect wouldn't be useful very often. Imagine the kind of wedding photos I would get...
Fate decided this was not enough, not enough at all. I should be tempted much closer!
It is then on an overcast day in Lusta that I am making a photograph of a thatched house. As soon as I take the camera from my eye, I feel like drunk. Part of what I see is sharp, another part is not. It takes a couple of seconds to find out what happened - the right one of my glasses has fallen out of the frame!
The grass at the place is knee high. Three quarters of an hour later my wife and I decide to accept the fact that we are not able to find the fallen glass. Fortunately we know there is an optician in nearby Port-Righ.
There an interesting conversation takes place. As I enter the shop I say: 'I have got a problem'. 'I don't like problems' the woman in the shop says with a smile. 'In that case I don't have a problem - it is just that one of my glasses fell out of the frame'. 'Have you got the fallen glass - then I can put it back in and tighten the screw properly'. 'No, I have not - I couldn't find the glass again'. 'Then, sir, you have got a problem!'.
As it turns out, once a week someone comes along to measure eye sight and then glasses are ordered and mounted in Glasgow. The nearest optician's workshop is in Inverness - 120 miles away. And even if we would go to Inverness, it would take some days before I had the new glass - at about the time we have to leave Scotland anyway.
Maybe the worst part of this whole adventure is that it all took place because of a lousy picture. Had it happened on the glorious morning on the Cuithreaing, it would have felt much better, even to the point of being heroic.
In a tea-room (always a place to find comfort in tough times) we have a council of war. What to do? Go to Inverness, stay at the campsite?
It is not that I need a guide dog as soon as I put off my glasses, but driving gets hard and very stressful. Making photographs is near impossible, as I cannot focus nor see clearly what will be in the frame.
My wife isn't exactly keen on driving in the UK, as everyone tends to drive on the wrong side of the way. So what to do?
Then my wife takes off her glasses and asks me to put them on. What a difference that makes. At once I can read the menu at the wall. Her glasses are just a bit too strong, and of course she needs them too.
The answer to this problem is found in the use of her sun-glasses. So, when you happened to see a large bloke with too small sunglasses on, at a grey gloomy day - then it might have been me...
Looking for images and actually make them while using sunglasses is quite adventurous as such. Everything looks too brown and a bit dark. As soon as I put the glasses off, everything turns too blue and unsharp. On top of that my wife has different cylinder corrections in her glasses from those I have. So as I walk it seems to me that the earth is just about a meter below me, making me feel sea-sick.
| | |
| --- | --- |
| | |
| with the broken glasses | without glasses |
| | |
| | |
| with sunglasses | the final slide |
Eilean a' Cheo
The island has several names, being best known as An t-Eilean Sgitheanach, which translates as 'the island of the wings'. Quite an appropriate name given the many peninsulas. If you would ask me, I'd say they have to be eagle's wings, as the island's scenery is really majestic.
Another name is Eilean a' Cheo - island of the mist. Appropriate as well, although a Staffaineach I talked too said it was a long time ago they had had real mist. The overcast low sky though, covering most of the inland parts, was quite misty indeed.
Nevertheless we made the most out of it, proving again that we have a good marriage indeed!
The island shares most of its history with the Eileanan an Iar. Therefore I won't elaborate on that.
In recent years though the pace of life is changing. In 1995 the busy Caol Loch Ailse ferry (Kyle of Lochalsh) was replaced by a large bridge.
Doubtless there is a major advantage for those who live on the island. Goods are now available for mainland prices (things like fuel tend to be quite expensive on the islands) and more tourists are visiting the island.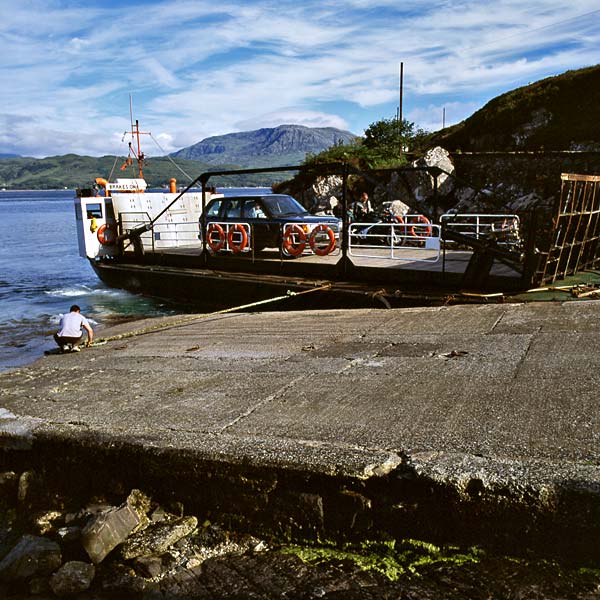 There are disadvantages too. More people from the mainland come over to move in or buy a second home, causing the house prices to rise above a level the younger people can afford.
On a smaller note it also lessens the romantic that comes with an island status. But not all is lost! For those pathetically romantic souls like me there are still two ferries to An t-Eilean: the Mallaig - Armadail one and the Gleann Elg one.
As we are heading for Loch Ailse, we decide to take the latter - the smallest and certainly most adventurous of the two. The crossing in itself is less than half a mile, but the tide causes a strong stream. It is a nice view to see the ferry steer right into the stream and than be taken with it until it escapes about half a mile downstream.
Adding to the atmosphere is the sound of the many seals that have their home here. Much better than crossing by bridge at 50 miles an hour, isn't it?
Loch Ailse
Loch Ailse, which is by the way not a loch, is that part of the mainland that is just opposite An t-Eilean Sgitheanach. Its best known feature is the so very romantic Eilean Donan castle, which features on many, many calenders, travelling guides and postcards.
This alone is enough to make one fear the worst, but actually it is quite a nice little castle, preserving its character despite so many visitors. At night the castle seems to be in a more urban mood, being lit by several funky coloured floodlights. To me, that is as anachronistic as lighting the Millennium Dome by bonfires. But that, of course, is just me.
Thinking about it - visiting a castle as a tourist is an anachronism anyway. And what about having a picnic at Glenelg broch?
By the way, when you read about a new theory on the Glenelg brochs, I may be the source of it.
What is the point: in Glenelg there are two brochs that are very near each other - maybe a two hundred metres. According to one theory the main point of building brochs was to protect families against invading raiders. Why is than that these brochs were built two hundred metres apart? Wouldn't even been given more protection when they were built really close?
Another theory is that these brochs were inhabited by ruling families. But why in that case built them so close to each other that provocation and fighting would be the order of the day?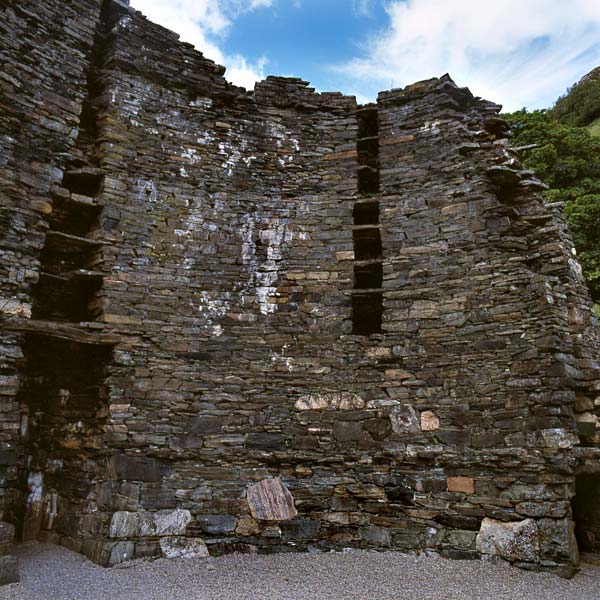 This all was explained by a National Heritage Trust guide to a couple of American ladies (who of course all had to touch Teun and ask for wee smiles). Then I told them that a third theory was more likely. These brochs were built by two brothers-in-law, who were married to two sisters. All the time they were told 'Honey, my sister has a much larger doghouse, can't you built an even larger one for us?', 'Love, my sister has got two new storage rooms - can't you give our broch more height and add three new ones?' And so on and so forth. And here they are as a silent reminder of human envy and idleness.
I don't know whether this is the truth or not, but it wouldn't be the first time in history that large works were done out of such sentiments - just think about getting men on the moon!
Gleann Elg is about 15 miles from the nearest through way. Even further, about another 15 miles, at the end of the single track road is Corran. Here in this beautiful surroundings of Loch Hourn lives a small community of about 50 people (as I estimate). According to the old man I speak with, there are some new people coming in, making at a more lively place.
I ask him how he feels about those incomers. He feels every new activity is welcome - and so are the incomers.
Talking with him about Gaelic, I wonder how I would feel if I were about the last one to speak my mother tongue in the place I grew up. He seems to have no bad feelings about it, but as we speak about it, he is full of melancholy.
And it that mood we leave Corran and after a few days Scotland. See you next time - rain or no rain; I'll just pack my camera and spare glasses...
part one: who went and where
part two: Leòdhas
part three: Na Hearadh
part four: An t-Eilean Sgitheanach agus Loch Ailse
---
This article is written by Wim van Velzen, © 2005.
Comments and questions are always welcome!

Most of the photos in this 4 part article are placed in the following portfolios:
The Great Glen
Lewis: Uig and Bernera
Lewis:the North and East
Harris: the West
Harris: the North and East
Skye (2005)
Lochalsh