Wim van Velzen photography - articles
---
'You must have a good marriage...'
account of a journey to the Hebrides
part three: Na Hearadh
part one: who went and where
part two: Leòdhas
part four: an t-Eilean Sgitheanach agus Loch Ailse

this year's theme is 'water'
We should have known. In Ireland we were already told: 'In Scotland there are 9 months of winter and 3 months of bad weather'. Until this year we didn't experience too much of rain. OK, we always had some days of rain, but always also days of bright sunshine.
This year the tradition of having days of rain was continued. The sunny days in contrast were rare, lamentably rare. Whenever the pictures suggest else, this is just because I tend to make more pictures when the light is bright than when it is grey and dark.
The worst part were the neither fish nor flesh days, or more precisely neither sun nor rain days. Sometimes there was a little drizzle, but all of the time the cover of the clouds stayed closed. Just drab, drab, drab. No weather for photos nor for keeping up our humours. To know that you are on one of the most beautiful places in the world, but without getting a chance to see it. Arghhhhh. And no I am not pathetic at all, we just had some bad weather...
On the better side: the boys didn't seem to mind. Teun loves to play in the tent, Klaas doesn't care whether he gets wet. It takes three days to get his clothes reasonably dry again, but that is of course not his worry.
The weekend on Na Hearadh is the worst part. It rains, it drizzles, it is pouring down. On top of that there is a fair breeze - known as a storm in the Netherlands.
On Saturday we can get some refuge in the local museum, Seallam!, where the information on the biology and history of the island gets more interesting as it rains harder outside. On Sunday everything on this very Calvinistic island is closed, apart from the churches.
As we are used to go to church, we did so here. But probably as much for a dry hide as for a place of spiritual rest.
The people of Tairbeart's Church of Scotland were very kind, and as soon as they heard after the service that we are staying out in a tent we get more tea and coffee. Even for the locals the weather seems a bit disappointing.
Monday morning the storm is abated. And old man from a caravan next to our tent (he lives in Carlobagh on Le&ogravedhas, but likes Na Hearadh better) laughs when he sees me. 'You must have a good marriage' he notices cheerfully. As a reaction to my amazed face he explains: 'About two years ago we had the same weather. When I woke up one morning, I heard some very angry voices outside. A man and wife - he had some remains of their tent in his hands, she had the car keys - were having an enormous argument. Together they walked to that large bin over there, got rid of what was left of the tent, got into the car and disappeared in great speed.
The both of you managed to do without shouting, so you must have a good marriage!'
That is quite a different test for a marriage than wallpapering a room!
It has been said before: 'how bloody were the bloody moments; how lovely the lovely!'. In the same weekend we have seen some glorious sunny spells. Never is sunshine brighter than after a shower at sea. And never more welcome too!
The most beautiful parts are the cliffs-with-sandy-patches near Na Buirgh. Wave after wave lash the rocks. Each attack is slightly different. Again and again the rocks raise unbroken out of the waves. We could just sit and watch for hours - which we do.
Only once Klaas got totally soaked - not too bad.
machair and moonscape
The west and the east part of Na Hearadh are very different. In the west there are sandy beaches with dunes behind. The east mainly consists of rocks, with some patches of poor heather and moor in between.
For centuries the people had been living on the western part. They manured the earth with sea weeds and got good fields for their cows and their vegetable gardens. The fields that are in this way enriched with many minerals know a typical vegetation: the machair. From May to far into the Summer there are flowers anywhere.
The eastern part of the island had been uninhabited, inhospitable and infertile. It can be reasonably compared to a moon landscape.
This pattern of land used changed in the first part of the 19th century. The owner of the land liked to get a higher yield of 'his land'. The rent paid by all those small tenants on the west coast brought him little gain, so they had to be replaced by sheep. The price of wool was high and large flocks need relatively few workers. The level of investment could stay low.
The only problem was how to remove his tenants. Once done this would be a fine example of agricultural improvement.
The tenants were forced to leave their houses, that were subsequently burned to ashes in order to prevent any return. The law was completely in favour of the owner. The land and the houses were his property, so if he wished to do so, he could burn them.
Generously the owner bestowed his tenants with the opportunity to build up a new life on the east coast. And to improve their character and drive out all laziness they could do this best without the owner's or state's help.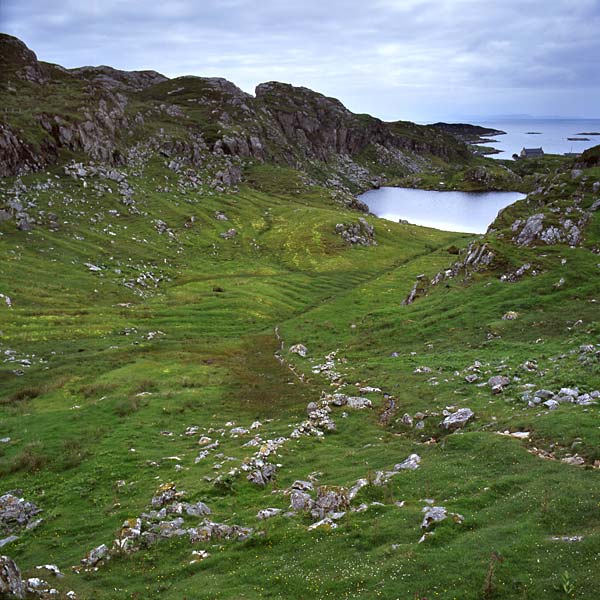 Watching around at the eastern part of the island one can only admire the perseverance of the evicted. On impossible pockets of land they managed to scrape enough ground for some fields. With small boats they went out fishing; women and children collected shell fish. Many people did not survive under these wretched circumstances.
Others left their ancestral land and migrated to the large cities or to Canada, Australia or the United States.
Trying to realize what life must have been, I saw: not only fascism and communism, but capitalism as well killed countless people. And still does.
Therefore it is kind of bitter that the road that links the east coast townships is known as the golden road. The construction of that road was probably not easy and not cheap either, but golden?
Moreover, as soon as the sheep business was no longer profitable the west part of the island was used as a shooting estate where rich gentlemen could hunt for deer and other game.
Nowadays that is history too and again people live at the western shore. It is still not easy to live on Na Hearadh, but it is far better than in those cruel years of eviction.
conveniences
I planned to write now about the fact that there is no campsite on Na Hearadh. You are allowed to put up your tent almost everywhere. And so we arrive in Horgabost, where we camp along with some others in the dunes, near some public conveniences. So we have at least a toilet and running cold water.
Then I would continue to tell about the many hardships we suffered in this way without showers or warm water. But after the last few paragraphs this all feels like nothing, so the reader will have to do without a description of our campsite.
Not only camping is an easy-going business on Na Hearadh. Life on this island is in a more kind-hearted pace than on the mainland. In the shops and restaurants there is time enough for a little chat. During our lunch once in a tea room a waitress has little Teun on her arm for a while so that we can have lunch quietly.
A lot of people like to talk to you. Our neighbour at the campsite, a crofter on his way to his sheep, the butchers who trains you how to pronounce half a pound in Gaelic: leth phuind.
So we found it an island to love, to long back to. Where you feel more like a traveller than a tourist. That is why there is almost nothing especially aimed at tourists. But guests are very welcome everywhere.
Hiorta - a promise
One goal at least was not reached this year. I would have loved to visit Hiorta (also known as St. Kilda). About 50 miles west of Na Hearadh there is this small archipelago in the Atlantic Ocean. Until 1930 one of the most isolated communities of Europe lived here. Because of the stormy seas only a few months a year ships were able to harbour there. The people lived from their sheep and above all from the hundred of thousands of sea birds.
The main island is less than two miles long. Nevertheless the cliffs reach a height of about 1400 feet. A real marvel of nature!
Each year around 1500 tourists are able to visit Hiorta. Alas, I was not one of them because the weather, as more often in the island's history, made the journey an impossibility.
Visiting this place promises to be a very special experience. And when I look at the islands in the hazy distance of the ocean, I promise myself: one time I will go there!
This article tells about the visit of an old Kildan to his native isle after many years. General information about St. Kilda can be found at the St. Kilda site.
part one: who went and where
part two: Leòdhas
part three: Na Hearadh
part four: An t-Eilean Sgitheanach agus Loch Ailse

---
This article is written by Wim van Velzen, © 2005.
Comments and questions are always welcome!

Most of the photos in this 4 part article are placed in the following portfolios:
The Great Glen
Lewis: Uig and Bernera
Lewis:the North and East
Harris: the West
Harris: the North and East
Skye (2005)
Lochalsh